BISQUET BALOU C VD MISPEL*GFE
Rheinisches Warmblut, Bay, 1m72, 15 years
He boasts an outstanding pedigree and two brothers who are good winners at CSI level. He himself holds a very good track record at the highest level. He brings elegance and a very good technique, and his offspring stand out in young-horse classes and at auctions.
---
Stud fees
Breeding guide program
Frozen and Chilled semen :

Booking fee : 350 €
Pregnancy fee : 1 000 €
Prices above do not included VAT 10%
Pedigree
BALOU DU ROUET,

BALOUBET DU ROUET,

GALOUBET A,

ALME,

VITI,

MESANGE DU ROUET,

STARTER,

BADINE,

GEORGIA,

CONTINUE,

CONTENDER,

FELICI,

GEORGETTE II,

DOMINO,

GEORGETTE,

PHILIPPA,

POLYDOR,

PILATUS,

PERSEUS,

DUELA,

FATA MORGANA,

FRUHLICHT I,

GUNDI,

COSINA,

COSINUS B,

COR DE LA BRYERE,

ELKI,

PUPPE,

PARTISAN,

KORSIN,
▶ License : SF, BWP
▶ X-ray score : 4* - WFFS : Génotyp N / WFFS

Grades for breeding (from 1 for a few to 5 for a lot) :
SIZE : 3 LENGTH : 4 CHIC : 4
BLOOD : 3 SCOPE: 4 BONES : 4


THE SIRE'S CHARACTERIZATION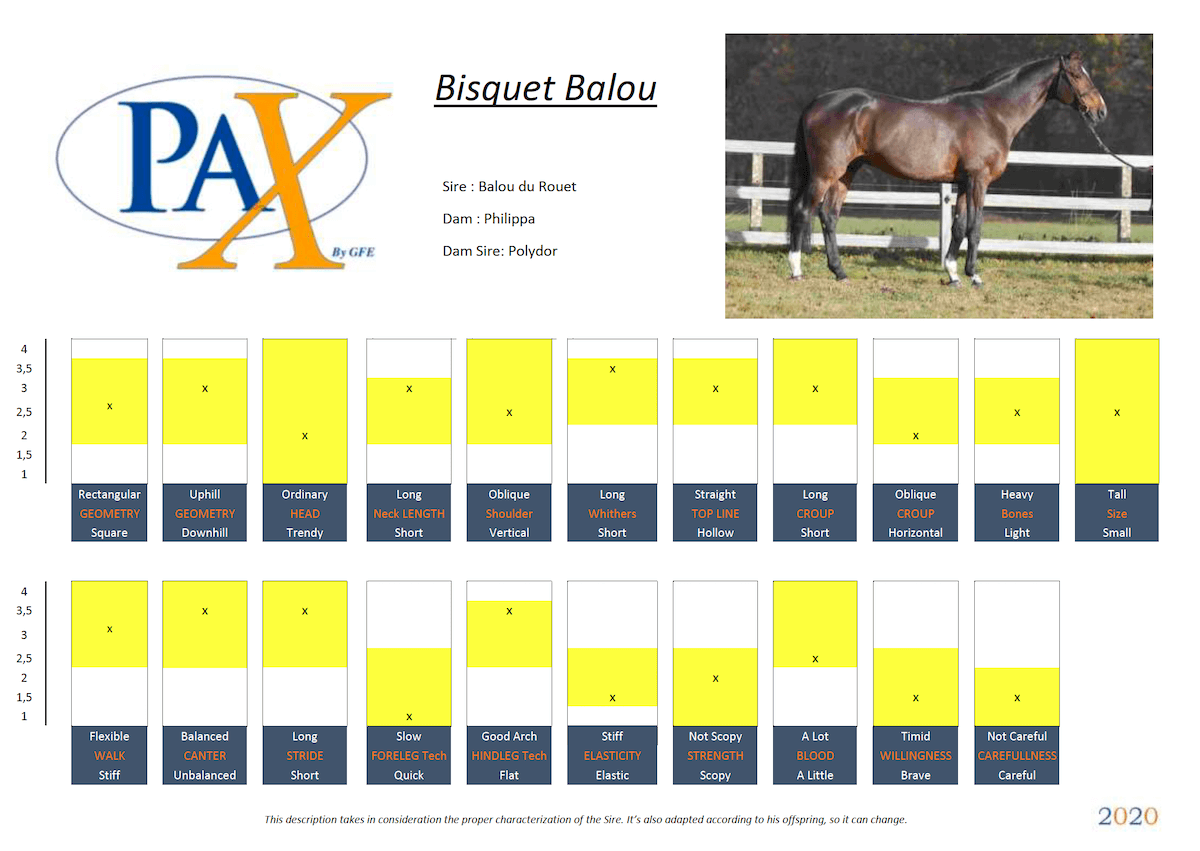 Click here in order to refine your selection with the PAX Graphique


Hij beschikt over een indrukwekkende pedigree en twee van zijn broers wonnen reeds meerdere prijzen op CSI niveau. Hijzelf wist meerdere klasseringen te behalen op het hoogste niveau. Hij weet elegantie en een zeer goede techniek door te geven, en zijn afstammelingen blinken nu reeds uit in jonge paarden wedstrijden en veilingen.


Origins
▶ Balou du Rouet, 9th WORLD STALLION WBFSH 2018 in JUMPING and 4th in EVENTING, he has more than 300 international winners victorious of the qualificative finale at the national championship Oldenburg with the perfect note of 10 in jump, then wining in 1m50 before devoting itself to the reproduction.
He has more than 300 international winners like Bianca, 2nd world performer in 2018 with S. Guerdat, 3rd by team of the European Championships of Gotebörg, Bronze medal at the World equestrian games of Tryon; Balou Rubin R, 2nd of GP CSI-W of El Jadida, 5th of GP CSI-W of Poznan with P. Schwizer; Balzaci, victorious of GP CSI4* of Munich, 1,55m CSI5* of Berlin, Monaco with F. Hassmann; Babalou 41, 4th of GP CSI5* GCT with D. Kenny; Saura de Fondcombe, ISO 168(18), 3rd by team of theEuropean Championships in Gothenburg, 2nd of the Nations Cup of Aix la Chapelle, victorious of GP CSI3* of Tetouan with NR. Peter Steiner… and Balance 30, Baloubet 4, Temascaltepec, Brilliant du Rouet.
He is also 9th best Sire of international winners in the CEC in Stallions Ranking WBFSH 2017 with Rêve du Rouet, 2nd of the CCI4* of Pau, 4th of the CCI4* of Burghley with S. Bullimore; Billy The Red, 4th into individual and gold medal by team at the European Championship in Strzegom with K. Cook and Fortuna, Ballbreaker SD, Barricello, Corouet… all good winners in CCI and CIC.
He has more than 40 approved sons as Balloon, CSI 3* and CSI 4*-W with Jos Verlooy; Baltimore, CSI5* with M. Baryard Johnson; Balougraph; Bisquet Balou, CSI5* with NR. Philippaerts; and Balou Star, Burberry 9, Be Bravo, Balou de Coeur Joye…
▶ Philippa 15 ex Lippa van of Mispelaere (Polydor : N°1 WBFSH BEST SIRE) is the mother of 3 international performers :
Bisquet Balou van of Mispelaere (Balou du Rouet old) CSI 1,60m with N. Philippaerts; Horst van of Mispelaere (Wandor van of Mispelaere bwp) CSI 1,60m with J. Mendoza and D. Kenny; It' s Me of Mesnil, CSI 1,50m with O. Popelyaev.
Performances
▶ 2014 at 2018: He is very good winner of CSI with N. Philippaerts, including:
7th of the GP 1,60m CSI5* in Brussels; 8th of the GP 1,60m CSIO5* in Lumen; 8th of the GP 1,60m CSI5* GCT in Monte Carlo; 2nd of the GP 1,55m CSI3* in Knokke; 3rd of the Nations Cup CSIO5* in Sopot; 4th of the GP 1,60m CSI4* in Zandhoven…
Before evolving in CSI 5*, it was one of the revelations in the 7 years class finishing 2nd of the GP CSI-YH of Malines with Koen Vereecke.
Production
▶ Bisquet Balou is Ambassador Elite BWP. Among its first products:
•Noor C, 3rd of the 5-year-old Belgium Championship, finalist of the 5 years World championships in Lanaken under the saddle of J. Oostvogels
•Noena van 'T Paradijs and Narengo Stb are finalists in the YH World Championships in Lanaken, No Mercy vd Caatshoeve and Nieske Balou ten Doorn are finalists in the Belgium 5-year-old Championshipin 2018.
•Opium vd Middelstede, Champion of the PAVO Cup at 4 years in 2018.
•Emir du Fresne, SF approved stallion in 2017, 8th of the 4 years French Championship in 2018 with V. Pacaud
•Fighter Semilly, SF approved stallion in 2018, best grade for the model of the Championship, finishes in the 5th place.
▶ Bisquet Balou has 6 approved sons: Jon Pleasure vd Mispelaere, victorious of the BWP approval, Narengo STB, Novio vd Donkhoeve. In 2017 on a generation of 26 sons, 2 stallions were approved: Oxford v/d Middelstede, Vice-Champion BWP stallion; Orgullo v/h Vijverhof approved SBS stallion.
▶ Ohnicio d'O was sold 61 000 € at the Top BWP Stallion Auction in 2017.
▶ Sagrance L3B was sold foal 34,000 € at the Horseman Elite Auctions 2018.