AMANT DU CHATEAU*GFE
Selle Français, Bay, 1m68, 10 years
He scored his first points in the Ranking List at 8 years of age and is getting ready for entering high level competition from 2019. His first products account for his ability to transmit bones and a good size.
---
Stud fees
Breeding guide program
Frozen semen :

Booking fee : 350 €
Pregnancy fee : 800€
Prices above do not included VAT 10%

Pedigree
DIAMANT DE SEMILLY

LE TOT DE SEMILLY

GRAND VENEUR

VENUE DU TOT

VENISE DES CRESLES

ELF III

MISS DES CRESLES

QUOKINE DU CHATEAU

ROBIN II Z

RAMIRO

ALPHA

SOPHIE DU CHATEAU

GALOUBET A

JAVOTTE D
▶ License : SF, BWP, Old, SWB
▶ X-ray score : 4* - WFFS : Génotyp N / N

Grades for breeding (from 1 for a few to 5 for a lot) :
SIZE : 4 LENGTH : 3 CHIC : 3
BLOOD : 4 SCOPE: 5 BONES : 5

THE SIRE'S CHARACTERIZATION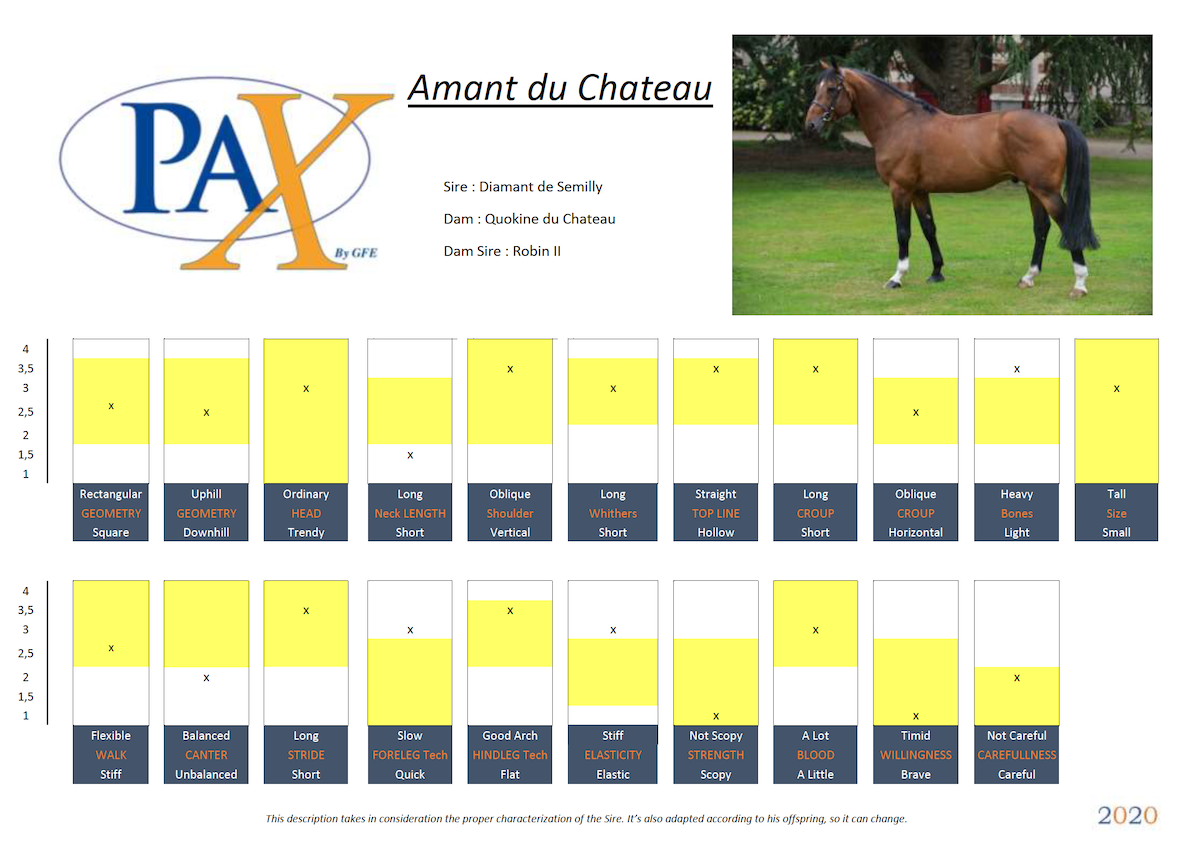 Click here in order to refine your selection with the PAX Graphique


Hij scoorde zijn eerste punten in de ranglijst op 9-jarige leeftijd en maakt zich op voor deelname aan wedstrijden op hoog niveau vanaf 2020. Zijn eerste nakomelingen tonen zijn vermogen om een correct fundament over te brengen en een goede maat.


Origins
▶Diamant of Semilly, winner of CSIO, ISO 184(02), Team World champion in 2002, France Champion with Eric Levallois… 2nd best sire of winners in CSO on WBFSH ranking in 2018 and 3rd best sire of young horses in Classical Cycle in Jumping and 5th in Eventing
Among his offspring, he has international winners: Don VHP Z, 3rd world performer WBSHF in 2017 with H. Smolders, winner of finale CSIO of Barcelona, Silver Medal of the European Championships 2017; Emerald N.O.P., 70th world performer 2017, Olympic Games of Rio 6th and 3rd of the World cup final in 2016, winner of GP CSI5*-GCT of Chantilly in 2017; Ilex VP, winner of the Nations Cup of the CSIO5* of Gijon, St Gall and of the GP CSI5* of Dinard, World Equestrian games of Tryon with NR. Delmotte; Quickly de Kreisker, 27th world performer 2016 with A. Ouaddar, World Equestrian Games of Caen, Olympic Games of Rio in 2016, ISO 183(15); Prunella d'Ariel, finalist CSIO, World Equestrian Games of Caen in 2014, ISO 171(14); Niack de l'Abbaye, Olympic Games of Lexington, Olympic Games of London, ISO 175; Sunshine, World cup finalist, CSIO5* with J. Verlooy; Don VHP Z N.O.P., 46th world performer 2018 with H. Smolders, winner of GP CSI5* GCT of Hamburg, 3rd in Paris; Inca Boy van' T Vianahof, 3rd of GP CSI5* in Rome with E. Tops Alexander. In Eventing, Toledo de Kerser is crowned World champion by team in Tryon with Tom McEwen.
He has many approved sires international performers in CSI5* like Safari d'Auge ISO 162(15) Utamaro d'Ecaussines, Muscaris of Ariel, Rock' NR Roll Semilly ISO 172(15), Pacific des Essarts ISO 177(16), Kalaska de Semilly ISO 169(12), Urano de Cartigny ISO 168(17), Un Diamant des Forets.
In 2018, Dark Night N is Vice-champion of 5 year old Germany; L'Innocence v't Meulenhof is 4th Championship of 7 year old Belgium with J. De Winter; Best of Iscla, 3rd of the 6 years Championship male, is the 7 year old Vice-Champion, ISO 147(17)…
▶Quokine du Château ISO 127(09) finalist at 5 years, has 11 products like Uno du Chateau (Mr. Blue kwpn), finalist at 6 years, ISO 142(18); Une Deux du Chateau (Mr. Blue kwpn), ISO 120(16), mother of Centella du Joalas ISO 132(18); Unie du Chateau (Arc de Triomphe old) mother of Bacchus d'Ecames, finalist at 5 years, ISO 132(18)

Performances
▶ 2016: 3rd at the 6 years old Championship in Fontainebleau, classified as "Elite", ISO 142.
▶ 2017: finishes 7th at the French Championship of the 7-year-old, victorious of several Grand Prix for 7 years old such as Deauville, Villeneuve Loubet, 2nd of the GP TOP 7 in Arnas,
▶ 2018: 4th in the GP Young Horses at the CSI5*-W in Bordeaux.
7th of the GP 1,45m in Saint-Lo, 5th of the GP 1,45m in the CSI2* in Le Touquet
Ranked 11th at the French Championship Pro 1 with François Xavier Boudant.
▶ ISO 148(18)
He transmits framework, bone, scope, blood and a really tense top line.
Compact, with a rather short neck, really good amplitude.