COMME IL FAUT - étalon/stallion -
WESTFALEN RIDING HORSE, Bay, 1m65, 15 years
He combines a dream pedigree with an impressive list of trophies at the highest level. His worldwide fame entitles his offspring to a good market value. He is the subject of a guarantee of fertility with another GFE stallion for mares that are still empty after 3 inseminations.
---
Stud fees
Breeding guide program
Frozen semen :
750 € per straw
Guarantee can be allowed, please ask us for any question.
Prices above do not included VAT 10%

Pedigree
CORNET OBOLENSKY

CLINTON

CORRADO I

URTE I

RABANNA VAN COSTERSVELD

HEARTBREAKER

HOLIVEA VAN COSTERSVELD

RATINA Z

RAMIRO

RAIMOND

VALINE

ARGENTINA

ALME

HEUREKA Z
▶ License : SF,
▶ X-ray score : more than 15 years - WFFS : Génotyp N / N

Grades for breeding (from 1 for a few to 5 for a lot) :
SIZE : 3 LENGTH : 3 CHIC : 3
BLOOD : 4 SCOPE: 4 BONES : 4

THE SIRE'S CHARACTERIZATION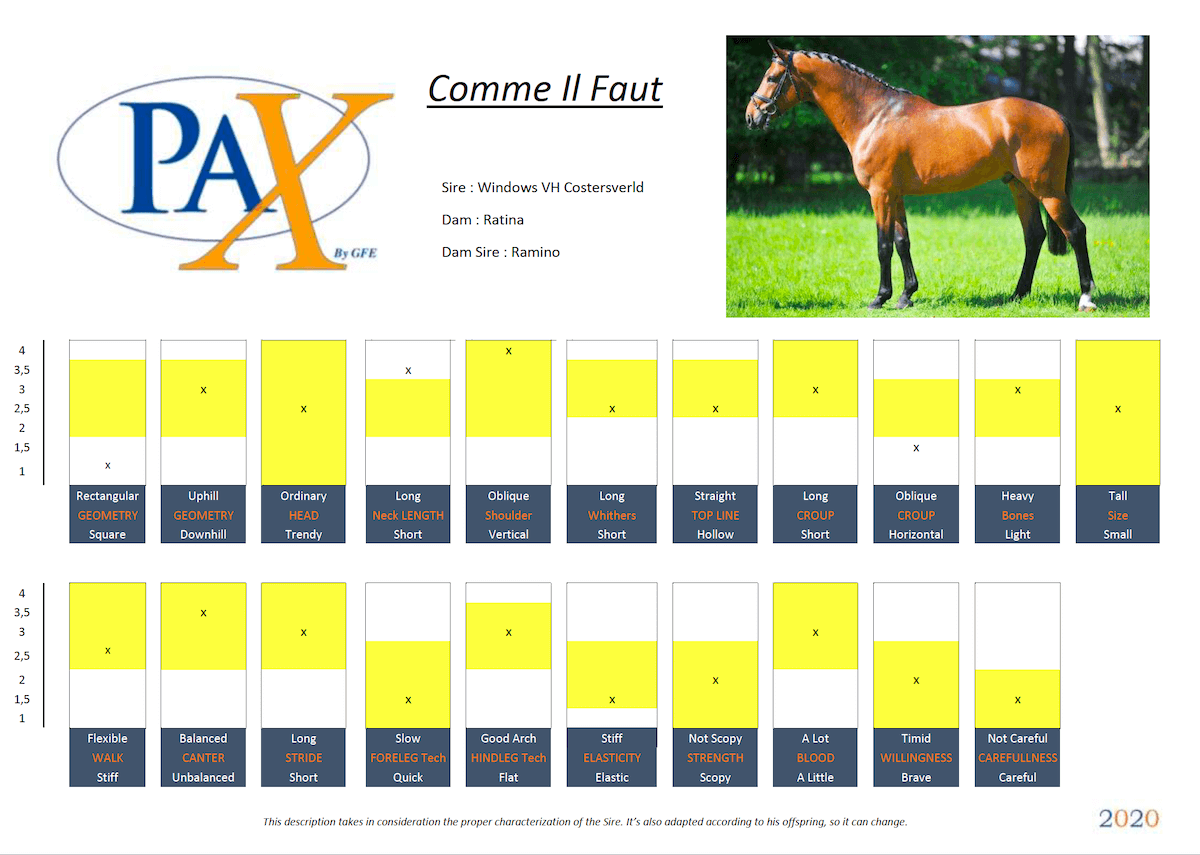 Click here in order to refine your selection with the PAX Graphique


Een droomafstamming in combinatie met een palmares op het allerhoogste niveau. Zijn wereldreputatie garandeert een hoge marktwaarde van zijn afstammelingen. Aangeboden door GFE, met drachtgarantie van een andere GFE hengst, indien 3 mislukte inseminaties.


Performances
▶ 1st GP CSI5* Stephex Masters in Brussels, 2nd GP CSI5* in Praha, Final Nations Cup in Barcelona…

Production
▶ His progeny are shining on the international scene as Cap 4, (8yo) winner 145 CSI2* in Kronenberg with D. Will, Come On Jumper (8yo) and M. Martin 3rd GP 145 CSI2* in Roma, Corsarie van de Helle 4th GP 145 CSI2* in Auvers with M Van den Broe, Commissaire S, 2nd GP 145 CSI2* in Wiener Neustadt with Hendrik Dowe
Chao Lee is 5yo German Champion in Warendorf with K. Eckermann, Daddy's Destiny is Vice German Champion in the 6yo Class with K. Eckermann