FLIPPER D'ELLE
Selle Français, Bay, 1m61, 27 years
The French National Stud phenomenon boasts successful offspring both in Show Jumping and Eventing. He passes his fantastic feeling and talent.
---
Stud fees
Breeding guide program
Frozen semen :
Booking fee : 350 €
Pregnancy fee : 900 €
Prices above do not included VAT 10%

Pedigree
DOUBLE ESPOIR SFA

IBRAHIM DS

THE LAST ORANGE DS

VAILLANTE DS

QUATRIEME ESPOIR SFA

PLEIN D'ESPOIRS DS

GAZELLE DS

PAVLOVA DES MALAIS SFA

JALISCO B SFA

ALME SFA

TANAGRA SFA

GUEULE D'AMOUR SFA

URIEL SFA

BELLE HELENE PS
▶ License : SF
▶ X-ray score : more than 15 years - WFFS : Génotyp N / N


Grades for breeding (from 1 for a few to 5 for a lot) :
SIZE : 3 LENGTH : 3 CHIC : 4
BLOOD : 4 SCOPE: 4 BONES : 4

THE SIRE'S CHARACTERIZATION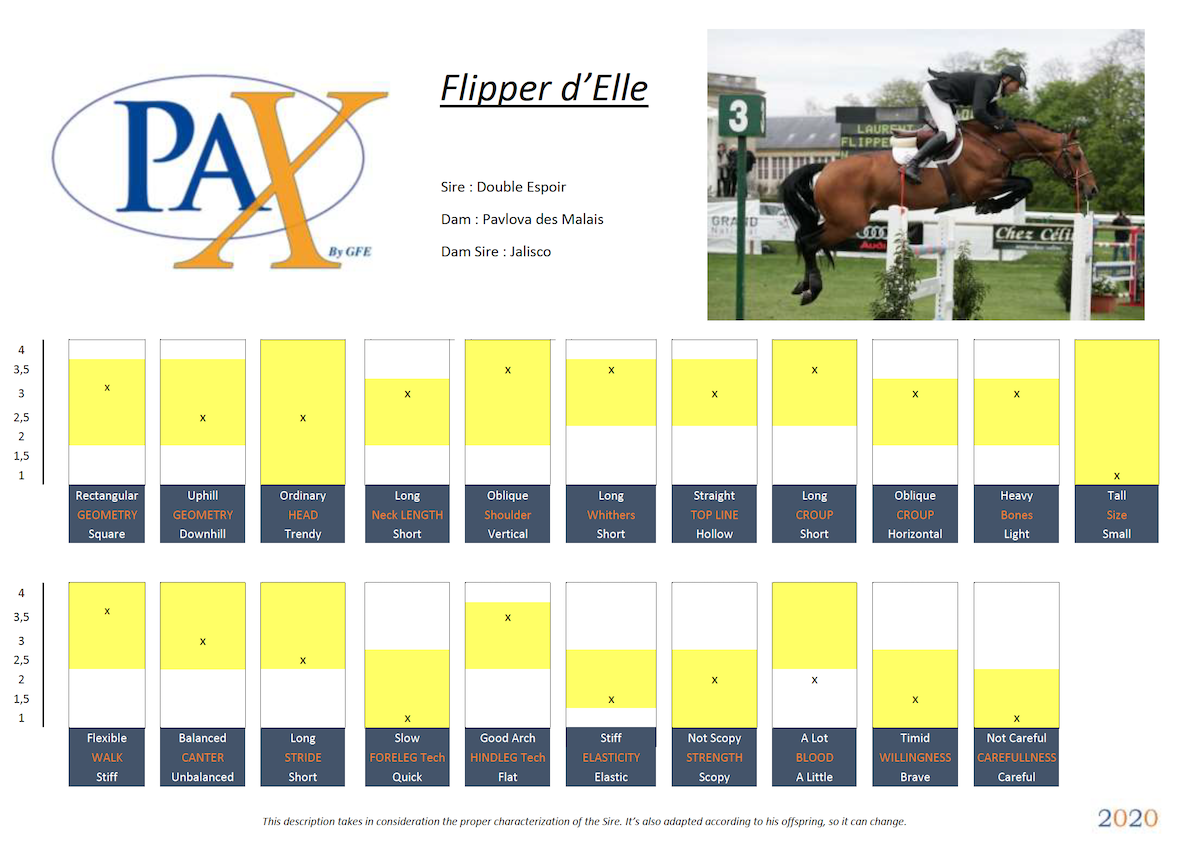 $
Click here in order to refine your selection with the PAX Graphique


Het fenomeen van de Franse Haras Nationaux !
Hij geeft zijn feeling en zijn talent.


Origins
▶DOUBLE Espoir, a reference in the French breeding hisotry. Sire of Apache d'Adriers, ISO 181, Triple Espoir III, ISO 178, winner of international GPs with Jean-Paul Casile; Pin Up de la Loge, ICC 178, with Jean-Yves Touzaint and many others...
▶Pavlova des Malais, ISO 145, performer with Alain and Bertrand Pignole. Dam of: Esperence d'Elle, dam of Urano de Cartigny, Sire, CSI5*, Hadji d'Elle, placed in CSI5*

Performances
▶Flipper d'Elle, Winner among others of the GP of Franconville, Chantilly, Saint-Lô and the Nations Cup of Dublin, St Gall, Rotterdam.
World Equestrian games, European Championships, CSI5* of Hickstead, Barcelona, La Baule…

Production
▶Recognized in France as much as abroad for his genetic qualities, he has more than 80 international winners in his offsprings!
▶In Jumping: Glock's Prince des Vaux, ISO 171, CSI5*; Quel Chanu, ISO 165, CSI5*; De Flipper, winner of a 1,50m CSI5* GCT in St Tropez in 2018 with Lorenzo de Luca; Tornado des Monts, placed in CSI5* for England in 2018; Clipper du Haut Roi, CSI5* for Switzerland; Quadillac les Parts, French vice-champion Pro ELITE 2016; Pirole de la Chatre, CSIOJ, CSIU25; Tequila de Blondel, ISO 155, placed in CSI3*
▶In Eventing: Madiran du Liot, ICC 154, placed in CCIO3*; Vesubio, 7 years world championship finalist, placed in CIC3*; Psh Gazelle, CIC3* in England; Phoenix d'Amigny, CIC3*

Passes his respect, strength and braveness.