KANNAN*GFE
KWPN, Bay, 1m72, 28 years
Real quality stands the test of time: Kannan is the only stallion in the world who has continuously remained amongst the top 12 sires of winners in the WBFSH rankings since 2010. The strength, respect and mindset he passes to his offspring make it one of the most popular stallions in the world.
---
Stud fees
Breeding guide program
Booking fee : 350 €
Pregnancy fee : 2 150 €
Prices above do not included VAT 10%

Pedigree
VOLTAIRE

FURIOSO II EX VERTUOSO

FURIOSO xx

DAME DE RANVILLE

GOGO MOEVE

GOTTHARD

MOSAIK H

CEMETA

NIMMERDOR

FARN

RAMONAA

WOZIETA

LE MEXICO

ROZIETA
▶ License : SF, BWP, sBs, KWPN, Holst...
▶ X-ray score : more than 15 years - WFFS : Génotyp N / N

Grades for breeding (from 1 for a few to 5 for a lot) :
SIZE : 5 LENGTH : 3 CHIC : 3
BLOOD : 3 SCOPE : 5 BONES : 5

THE SIRE'S CHARACTERIZATION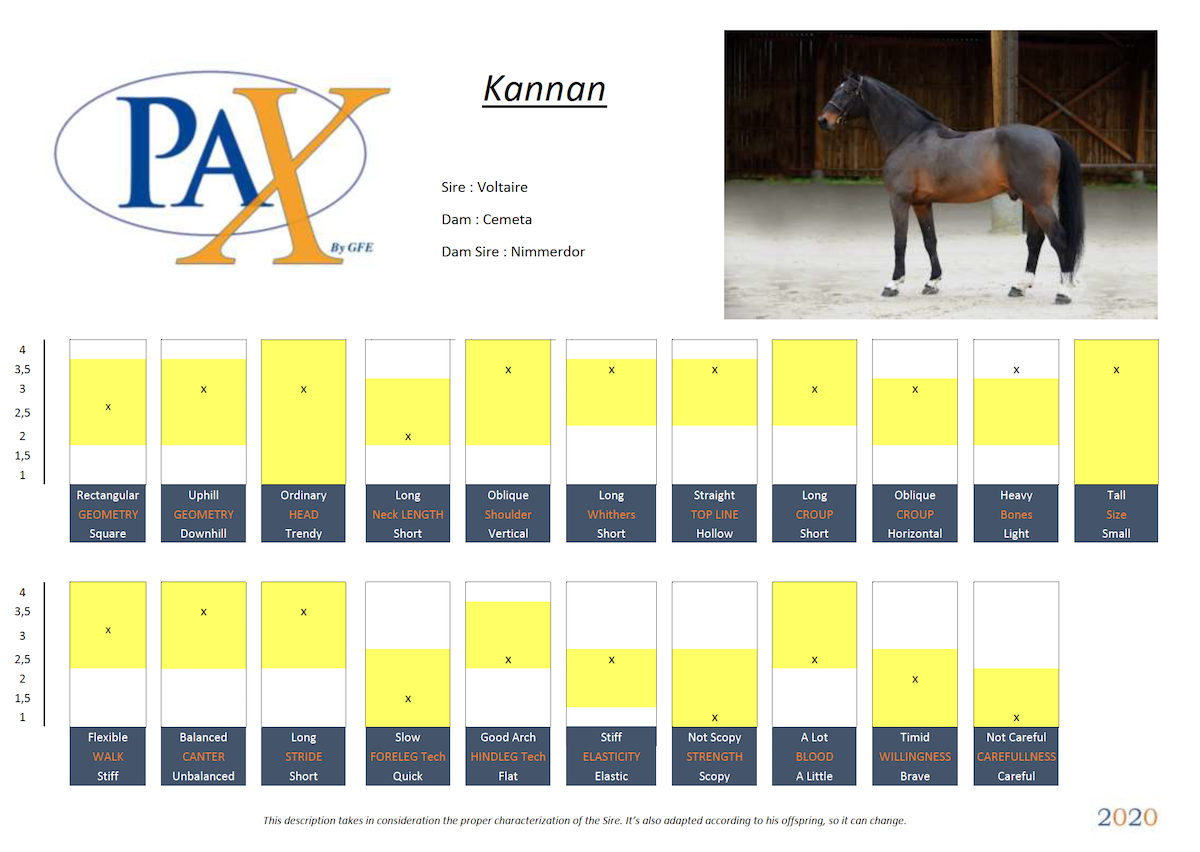 Click here in order to refine your selection with the PAX Graphique

Echte kwaliteit doorstaat de tand des tijds: Kannan is de enige hengst ter wereld die sinds 2010 continu in de top 12 van winnaars in de WBFSH-ranglijst staat. De kracht, het respect en de instelling die hij aan zijn nakomelingen geeft, maken het een van de meest populaire hengsten ter wereld.

Origins
▶Voltaire, international winner with J. Lansink (GP of Berlin, CSIO of Stockholm, Calgary…), classified 56th Best Sire of winners in Jumping on world plan WBFSH in 2013. He has more than 200 international performers in CSI, CSIO and CSI-W Kellemoi de Pepita, winner of CSIO and CSI-W, 6th world rank 2011, ISO 183(11); Finesse RBG; Concorde; Altair, CSI-W with B. Underhill; Play It Again, CSI-W with I. Millar; Helios, CSIO and CSI-W with H. Bourdy, ISO 183(01); Flyinge Elektro; Vulkano FRH, 2nd of GP CSI5* GCT of Monaco with M. Ehning in 2008; Ohm of Ponthual, 55th world performer WBFSH in 2012, ISO 175(12); Slieveanorra, winner of the Nations Cup in Calgary, 2nd of the GP CSI5* of Wellington in 2014…
Among its licensed products in France: Ella du Moulin II ISO 163(02), Estrella des Isles ISO 159(00), Mancer ISO 153(06), Rosie van de Hermitage ISO 154(04), Hygie du Golfe ISO 155(04), Bodega ISO 154(07), Kikuyu du Coty ISO 170(08), Lolipop ISO 156(08), Athlete van' T Heike ISO 153(13), Myra ISO 150(11), November ISO 165(12), Veralaine ISO 150(16)… and the Sire Flyer ISO 158(96), Grain de Voltaire ISO 167(04), Imperial d'Herviers ISO 159(06), Klotaire du Moulin ISO 176(07), On Ira ISO 149(10)…
He is also the Sire of the very good winners in Dressage as Darius du Rivaud IDR 148(98), Milvo Z IDR 146(02), Hélina de Lauture IDR 167(04)…
▶Cemeta has 4 other products as :
-Gideon (Flamingo swb), CSO 1,35m and dressage;
-Interest (Apollonios PS), 10th of the 7 years World championship in Lanaken with G.Schroeder, winning in CSI 1,50m;
-One Endeavour (Voltaire hann), CSI3*

Performances
▶ International performer with M. Hécart:
-Winner of the Nations Cup CSIO in Lisbon and La Baule, 2nd in Gijon, Winner of the CSI-W of Paris-Bercy and CSI3* of Chantilly ;
French Champion in 2005 ; 2nd GP CSI3* of Courneuve, Vejer de la Frontera, Deauville, GP CSIO5* of Gijon, 3rd GP CSIO in Moscow and Gijon;
Classified at the CSIO of Saint Gall, Aix La Chapelle, Dublin, La Baule…

Production
▶N°12 2018 WORLD SIRE WBFSH in Jumping, N°1 in 2014 and classified 2nd during 3 years, Kannan has more than 550 products winners in CSI:
-Quabri de l'Isle, World Equestrian Games of Tryon, 3rd of the GP CSIO5* of Aix la Chapelle, winner of the Nations Cup CSIO5* of La Baule and 6th of the GP with P. Veniss ;
-Kel' Star du Vingt Ponts, CSI5* with J. Guéry ;
-Molly Malone V, 4th GP CSI5*-W of Verona, 5th GP CSIO5* in Dublin with B. Allen ;
-Tokyo 2 ex Tokyo de Saint Fray, 3rd of the GP CSI5*-W of Stuttgart, GP CSI5* of Valkenswaard, ISO 171(18) with C. Ahlmann ;
-Symphonie des Biches, ISO 164(18) with R. Angot; Sunshine du Phare ISO 164(18) with R. Y. Bost;
-Tradition de la Roque, ISO 163(18) with R. Kessler;
-Toupie de la Roque, ISO 162(18), with J. Epaillard;
-Toledo du Phare, ISO 161(18) with G. Anon Suarez;
-Tourterelle d'Elle, ISO 156 (18) with T. Hanquinquant;
-Vice-versa de la Roque ISO 156(18) with A. Zorzi;
-Twix de la Roque ISO154(18) with J. Smith; Uriel d'Amaury ISO 151(18) with C. Le Garrec;
-Vintadge de la Roque ISO 155(18) with M. Hecart.
▶2018 Best Sire of young horses in Jumping Classical Cycles
In the 4 years: Eskimo Platière, Enjoy d'Eole, Evening de Rêve, El Chaabane du RCT, Eden Star L'Omont, Esprie de Mara, Eywa de Verneille, Eliskell de Kergane, Erkann du Bois Luric, Ekano Dks... In the 5 year-old : Doker de Maucourt, Dolce Vita du Landel, Dharkan ENE-HN, Drako de Maugre, Dayak du Faubourg, Doris... In the 6 year-old : Cador du Tertre, Candy Man, Clea de la Moulery, Chaman du Roumois, Carantec Ar Tropig, Cougar du Riol, Coryzalia du Plant, Cap du Marais, Creme de Lu, Cristal de B'Neville... in the 7 year-old : Baracat d'Anchat, Bonnie du Park, Baki du Pommiez...
▶Best Sire 2018 of young horses in Juming with: Dubai de la Noé, Champion 1st year of the 5 years old, Divine de Laumae, Diapason de Bloye, Divine de Kervel, Cottage du Rem...
▶Fly du Rouet, sold 65,000 € at the Elite Fences Auction and Fundao Semilly approved stallion at 3 years; Gazelle du Mont d'Or is 5th of the 2-year-old French Championship; Keaton (KANNAN X CONTENDRO) is 3rd of the Holstein Sire competition.
Kannan is the only Stallion in the histoy of the WBFSH ranking to be present in the Top 12 for 10 consecutive years.