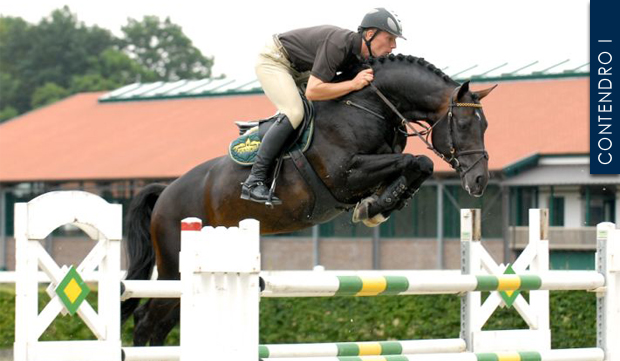 CONTENDRO I's offspring, from the youngest to the top Level, made a great impression this week-end across all Show-Jumping arenas.
During the SBS stallion licensing show in Belgium, Carlos VD Helle was ranked joint 1st.
Town Head Chinton with James Smith (UK) and Cherrypop with Cecile Hatteland (NOR) came 4th and 6th respectively in Villamoura (Portugal) in the 7 yo final contest.
Carlson was in Spain in Vejer de la Frontera and finished second with Gregory Wathelet (BE) in Friday's big test; Holiday by Solitour was, as each time, ranked in the Dortmund CSI*** with K.O Nagel.
During this past week-end's biggest jumping competitionin Braunschweig (Germany), the progeny of CONTENDRO I did great. Tabea won the Grand Prix under the saddle of Philipp Weishaupt with a 1 second lead! Oliver Lazarus (RSA) was qualified for the jump-off and finished 9th with Curt, yet anotherson of CONTENDRO I's. On Friday, Curt and Tabea were ranked 3rd and 6th respectively.
Constantin B won two 145 level competitions including the smallGrand Prix 145, under the saddle of Hans Dieter Dreher!
A brilliant display of sports performances by CONTENDRO I's offspring !
You can watch under the Contendro's video which was played at Saint-Lô stallion show, in order to celebrate his rank as 10th best stallion worldwide.