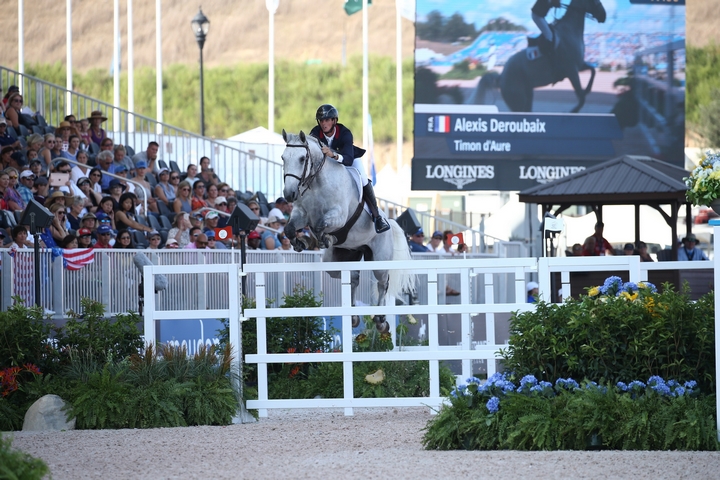 The World Equestrian Games of Tryon have just ended and that was 3 medals that GFE stallions and their offspring have won!

Following CHACCO BLUE leading with 8 products, we find 4 CORNET OBOLENSKY, 2 CATOKI, 2 CONQUISTADOR who is certainly the revelation from the WEG, one product of CONTENDRO I, 1 KANNAN, 1 UNTOUCHABLE 27, 1 MYLORD CARTHAGO and CHILLI WILLIwho was jumping himself!

With a small fault in each sleeve of the finale, Alexis Deroubaix and Timon d'Aure concluded this first world championship in Tryon as splendid as encouraging with a 9th place.

Martin Fuchs with his excellent Clooney (CORNET OBOLENSKY) finished 2nd with the Silver Medal ! they shown their ease on each tests which bordered the 1m70 !

Cold Play by CONTENDRO and Fredrik Jönsson for Sweden were one of the revelation of these World Equestrian Games. They ended the best Swedish couple for their first participation in this level with one 8th place in Individual and especially the silver medal by team!

The team of Germany, ended at the 3rd place and bronze medal. Composed of DSP Alice, Pret à tout (Selle Français), Don Diarado, they were accompanied by the daughter of CATOKI: Catch me if you can and its young rider Laura Klaphake. The couple superbly finished the competition.

3 medals for the GFE stallion's offspring followed by some couples which have for the first time or once more "burst the screen" :

• The formidable Australian team took down her qualification for the Olympic Games taken along by 1 son of CHACCO BLUE and 2 sons of CONQUISTADOR the new recruit of the GFE. CONQUISTADOR is the only stallion to have 2 products in the 30 firsts of the Championship: Yandoo Oaks Constellation (CONQUISTADOR and Galaxie Pierreville by JALICO B) a ridden by Jamie Kermond and Oaks Redwood (CONQUISTADOR and Miss Platière by VERDI) ridden by Billy Raymont.
• Pedro Veniss and Quabri de l'Isle (KANNAN) were 2nd of the speed test (on more than 120 competitors!) and carried out a very beautiful test by team.
• Another revelation, Kara Chad was the youngest of these World championships with her 11 years old mare Carona (UNTOUCHABLE 27). They finished the better couple of the Canadian team! The binomial bluffed everyone to her mentor and teammate, the Olympic champion Eric Lamaze, who did not dry up praises in his connection in press conference!
• Timon d'Aure (MYLORD CARTHAGO) and his French rider Alexis Deroubaix has finished 9th in Individual and shown one more time the quality of MYLORD offsprings !
• Last but not least: CHILLI WILLI who was one of the best horses in the Nations Cup, and his rider Nicola Philippaerts were Team Belgium member and jumped well.

We were delighted to follow these 2018 WEG where the courses and the sport were superb, highly Tokyo in 2020 !
crédit photo@PSV Photo