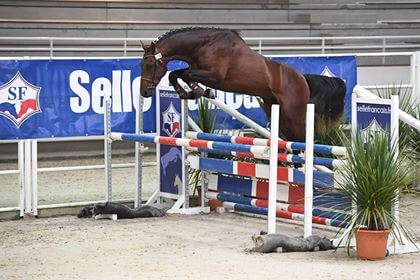 UP TO YOU (CALVARO X Olisco) does not cease being illustrated on the competition grounds and counts 4 victories in Grand Prix and multiple rankings in rankings tests!

Today it is his offspring which is pointed out at the time of the Selle Francais stallion qualificative of St Lô.

With 2 sons on the podiums of the 2 and 3 years, our young stallion signs the selection 2018!

In the 3 years, Fakir des Ruettes (UP TO YOU X Diamant de Semilly) which comes from Jean-Louis Lenoury's breeding (50) is classified 3rd out of 120. He was appreciated for his framework, his well set- neck and his tonicity, he obtained 17,5/20 for the jump.

In the 2 years, UP TO YOU is the father of the winner: Girolata Mont Oger (mother by Made in Semilly) which comes from Roland Cotentin's breeding with St Jean de Daye. Girolata obtained an average of 16.85 (16.50 at the gaits - 16.50 at the model and 17.50 at the jump).
photo@Les Garennes