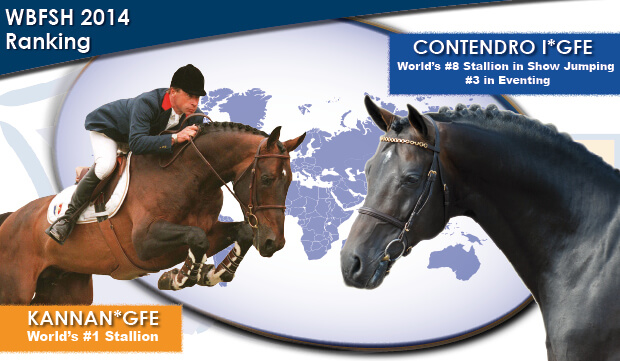 The WBFSH Sire Ranking 2014 has just been published, KANNAN reaches the #1 place – Best stallion in the world.
CONTENDRO I keeps on raising in the top 10 and gains 2 places by finishing 8th in show jumping and 3rd in eventing.
The 2014 season was very rich in victories for the progeny of the GFE's stallions and it is with great pleasure that we find the GFE's stallions of our catalog in the world top 100 show jumping ranking:
KANNAN is 1st, CONTENDRO I is 8th, MR BLUE is 23rd, ORLANDO is 48th, PRESIDENT is 72nd and CALVARO is 89th. The latter returns in great form in the world ranking with very good results of the « S » generation: Sixtine de Vains, Stardust Quinhon, Sibell du Gisors, Sancerre Gravière, Scara Mouche…
In eventing, CONTENDRO I does an exceptional jump to reach the 3rd place, KANNAN is 21st, QUITE CAPITOL is 56th and ORLANDO is 58th.
The young ones UP TO YOU, ULHAN DU TEMPLE and UN DIAMANT DES FORETS have been much noticed this year and are part of the best in their generation. The future is well assured and the breeders were right to trust them.
Thank you and congratulations to the breeders, riders, insemination centers and to all the teams that highlight the GFE's stallions and show their qualities by the results!
Please find below a video of KANNAN and his progeny :