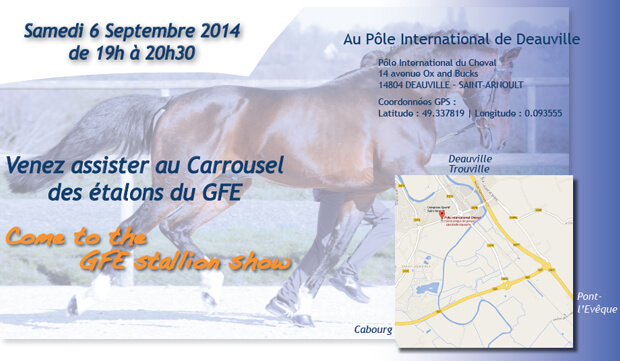 Saturday, September 6th, from 7h00 pm to 8h30 pm, the Groupe France Elevage organizes a presentation of its stallions and their foals around a tasting of local Normandy products.
All the breeders are invited to come and share a good time at the Pôle International du Cheval in Deauville and meet their foreign counterparts during the evening before the closure of the World Equestrian Games.

The show divided in 5 parts, alternating jumpers and hand presentations, will be the opportunity to see or see again the great champions of the GFE : KANNAN, CONTENDRO I, ORLANDO, next to nearly fifteen other champions like KRAQUE BOOM, MALITO DE REVE, NON PLUS ULTRA, PRESIDENT, QUINTUS, REBOZO …

The rising stars UP TO YOU, UN DIAMANT DES FORETS, ARKINO Z and ULHAN DU TEMPLE are also announced for an ultimate jumping session before the final of the 6 years old in Fontainebleau.

I Illustrated by foals presentations, among which the full sister to Nino des Buissonnets and many other foals selected for the 2014 Fences Elite Auctions of the following week, this show will be the opportunity to greet the entrance into the GFE catalog of the champion CASTEL FORBES VIVALDO VH COSTERSVELD who will put for this occasion an end to his international career.
VIVALDO VH COSTERSVELD, owned by Lady Georgina Forbes, counts more than 100 victories and international rankings with R.Y. Bost. Son of CLINTON, he is also the uterine brother to the mother of the famous Cornet Obolensky …! His location for 2015 is likely to be revealed for this occasion.

This spectacular gathering will allow the Groupe France Elevage to present their stallions to a large range of visitors from around the world and will give a chance to French breeders to make interesting meetings... Another demonstration of the will of the GFE to export itself and to favor international exchanges for its shareholders and clients.
A pleasant meeting and an occasion not to miss …!