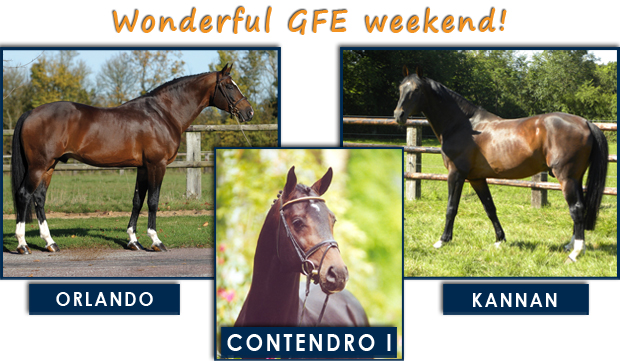 One weekend follows another, and after Conthendrix's decisive performance in the Nations Cup in Faltersbo, Codex One (CONTENDRO I x Gluckspiltz) wins the Rolex Grand Prix in Aachen after 3 clear rounds : CONTENDRO I's offspring confirm his status of great stallion and his #10 position in the world ranking.
The 2013 team Vice Champions in Herning, who incidentally came 6th in the Europe Grand Prix at the beginning of the week: Codex One and C. Ahlmann finished first in the CHIO and won the 330 000€ prize money awarded to the winner!
3 out of 5 :
A great weekend in Aachen: after 2 clear rounds on a challenging course, 5 horses were back in the arena for the jump-off. 3 of them are from GFE stallions:
Plot Blue by MR BLUE, with Marcus Ehning,
Ohlala, the new crack of Lauren Hough by ORLANDO, already ranked 2nd Friday in the Nations Cup,
Codex One by CONTENDRO I and Christian Ahlmann who made his childhood dream come true by winning this Grand Prix!
GFE stallions on every field :
In Megève and Dinard, where a CSI3* and a CSI4* were held, the offspring of GFE stallions also proved very competitive:
Zoe II by KANNAN and L. De Luca came 2nd in the Megève GP, whilst Callahan by CONTENDRO I and A. Al Sharbatli were ranked 3rd with the best time. In Dinard, Plume de la Roque and Padock du Plessis, both by KANNAN and ridden by F. Busquet and T. Anciaume respectively, finished 4th and 5th in the GP.
Moreover, Carlito C and L. Philippaerts, Kavalier and S. Guerdat, Ominerale Courcelle and S. Breen, Diva II and B. Maher, Sultan du Château and L. Guillet, Prince d'Uranie and S. Robert, Quanan Rouge and J. Anquetin, Oliday d'Ira and A. Gautier, all by KANNAN, were ranked or won in the major classes of the weekend in Aachen, Megève and Dinard!
Echo D by ORLANDO and Peter Devos came 3rd in the 150 high Stawag Class in Aachen. Following the good results of Ohlala, 2nd in the Nations Cup and 5th in the Grand Prix, ORLANDO, already 57th in the world stallion ranking, is on his way to becoming a new star.
September 6th, Save the date in Normandy :
The GFE will be very happy to welcome you on their stand in Normandy during the WEG, and will be especially delighted to meet you on September 6th in Deauville for a show gathering all the GFE stars and their offspring.